NSW and Queensland kids get to write about water in rural communities
We are happy to announce that the 2016 Water in Rural Communities Enviro-Stories Program has been officially launched. This program has been sponsored by the Cotton Research and Development Corporation and is run throughout central and northern NSW; and central and southern Queensland.
This year's theme is all about water in country areas so it provides a wide range of possibilities for students to investigate.
We are looking for 15-page illustrated stories on:
How we use water on farms and in rural towns
Conserving water
Catchments
Irrigation
Riparian zones
Impacts from floods or droughts
How important water is to the survival of our plants and animals
And basically anything else to do with water in the country
REGISTER TODAY AND GET INVOLVED!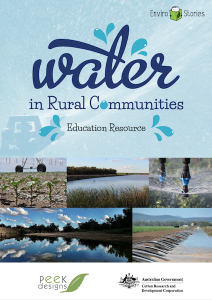 The program page has the story templates, an introduction to Enviro-Stories, story ideas, some hints and tips, and access to the FREE education resource that contains a range fact and activity sheets all about water.
So get your students researching, writing, illustrating and sending in entries for their chance to become a published author.
Unfortunately, due to a lack of funding the Enviro-Stories Program in the Central West and Central Tableland Local Land Services areas of NSW is not being run this year. We thank Liz Davis and Catie Guise from Local Land Services for their many years of supporting Enviro-Stories and helping the students of their area produce so many fantastic books.
The good news is that the CRDC has welcomed all those schools from the Central West and Central Tablelands areas to join in the "Water in Rural Communities" program.