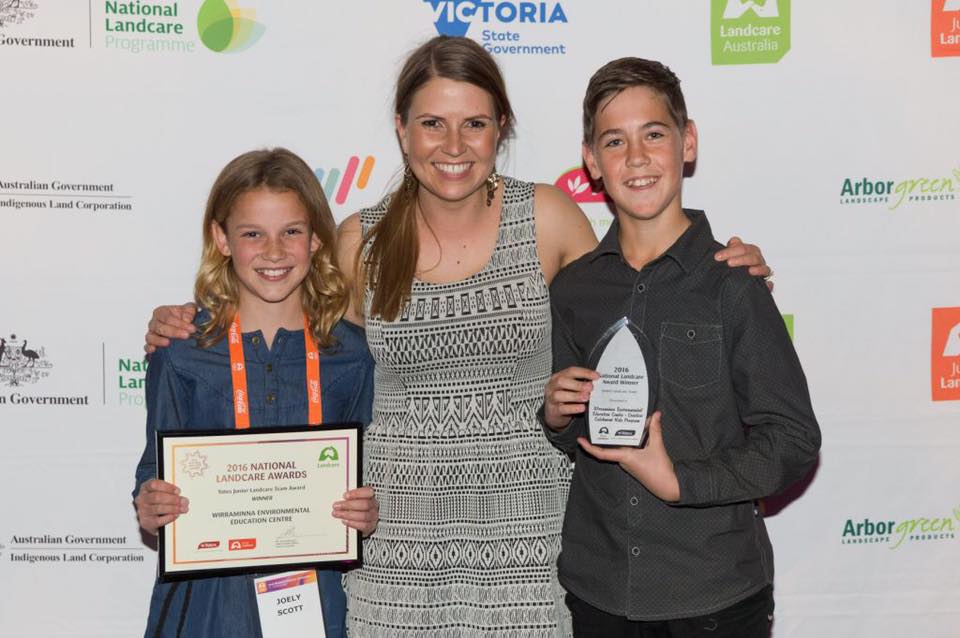 Creative Catchment Kids Wins National Junior Landcare Award
Wirraminna Environmental Education Centre (WEEC) is pleased to announce that at the National Landcare Conference Awards dinner at the Melbourne Exhibition Centre on 22nd of September, WEEC's Creative Catchment Kids (CCK) Program was awarded the 2016 Yates Junior Landcare Team Award.
Mr Owen Dunlop, CCK Project Manager says "The Creative Catchment Kids team thanks Landcare Australia for the recognition of the work the students, teachers and schools in our region are doing to support Junior Landcare through our program. Owen continues, "The Creative Catchment Kid's mission is to engage the region's students and schools to develop more resilient landscapes and communities through a change in attitude towards natural resource management. The program provides positive, real life and cooperative activities that encourage students to learn about and respond to, natural resource management, the importance of farming, biosecurity and pest management".
Mr Owen Dunlop CCK Project Manager continues, "Since the CCK program started in 2010 I've been delighted to witness the growth and interest develop over the years and to see so many schools connect with their region. It's rewarding to now see so many of our former students progressing through high school and still taking local action for Landcare."
Mrs Stacee Bell, CCK Senior Project Officer says "Over 2,000 children, 200 teachers from over 60 schools have participated in the program in the last 5 years throughout the Murray, Riverina and Western regions of NSW".
Charlie Doig and Joely Scott, who participated in the CCK program in 2015, whilst in year 6 at Henty Public School, represented the over 2,000 students who have participated in the program at the Awards last night. When accepting the award, Charlie, 12 years old, spoke to the room of over 700 delegates and said "Well done to all the other Junior Landcare Award nominees. Great work caring for the environment – keep it up!" Mrs Stacee Bell commented after the awards "With Junior Landcarers like Charlie and Joely, the future is indeed in good hands!"
Mrs Stacee Bell, CCK Senior Project Officer says "We hope to build on the success of the program and continue to connect kids to their region, create the Landcare leaders of the future and increase the scope of the program moving forward to include more kids, more schools and embed the Landcare ethic from an early age."
The Creative Catchment Kids team say "Many thanks go to the major supporters of the CCK program over the last 5 years without whom this program would be unable to operate – Murray Local Land Services, Riverina Local Land Services and PeeKdesigns."
PeeKdesigns is proud to have been a part of Creative Catchment Kids since the beginning. We look forward to continuing our partnership with this amazing team, long into the future. 
Below are a few photos from the Awards night as we celebrated.
Media Release supplied by Wirraminna Environmental Education Centre