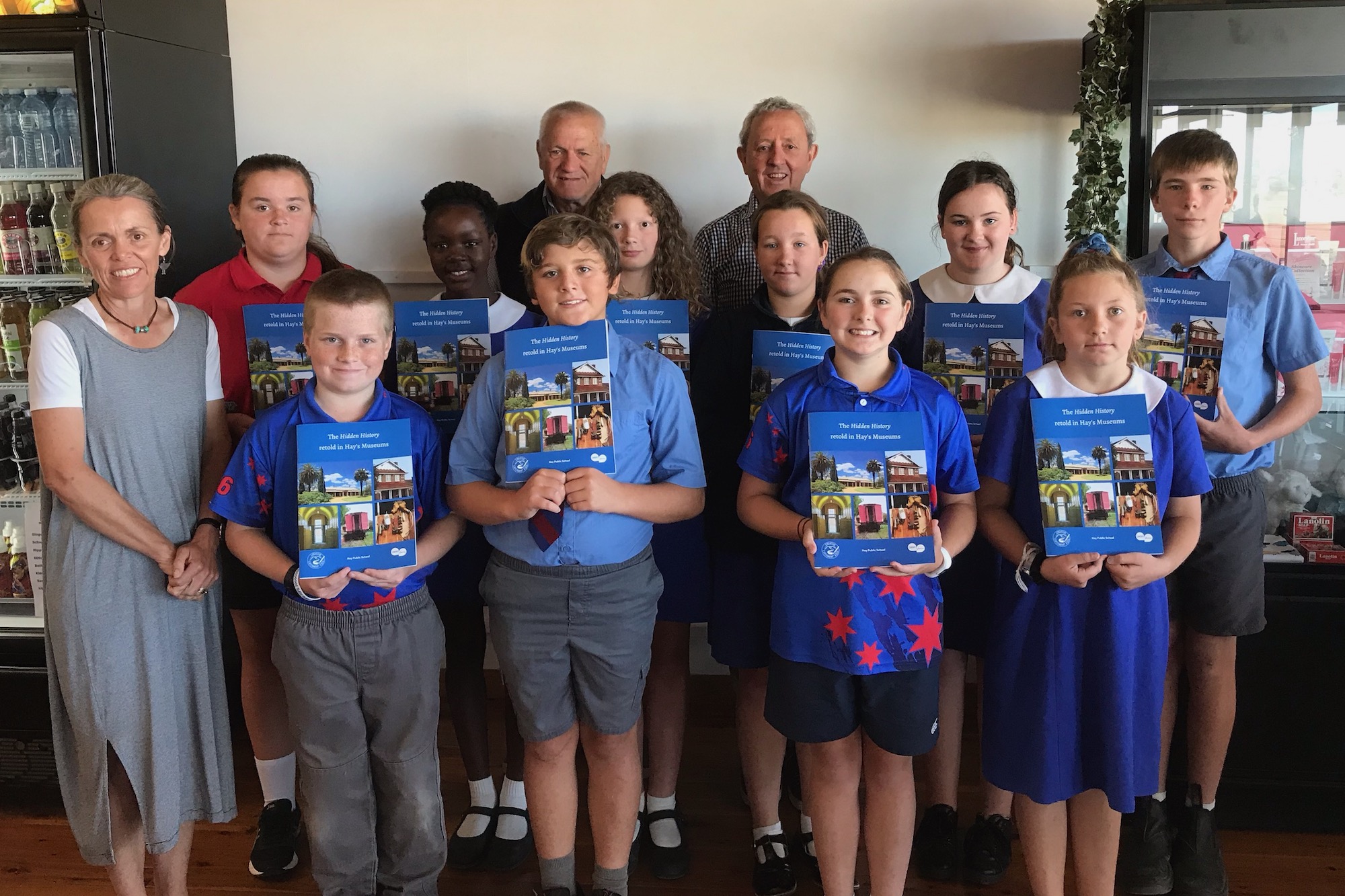 Celebrating the history of Hay
Students from Hay Public School, Booligal Public School and Hay School of the Air spent 6 months learning about the history of Hay – both the Indigenous and European history. Combined with excursions around the town to five different museums, the students also ventured out to explore Nap Nap Station.
The immense amount of work put into this project has resulted in two wonderful books that have been published through the Creative Catchment Kids program.
Hay was established as a town in 1859 and it contains many old buildings and lots of stories to tell. This book contains information on the museums from friendly ghosts to army guards asking prisoners to hold their guns! There are five museums the the book explores:
Bishop's Lodge – a beautiful building that was the residence and office of three Anglican Bishops during their time in Hay.
Hay War Memorial High School – commemorates both Hay and district war service and the life of the school itself in a unique war memorial.
Hay Gaol – 150 years ago, in 1870, where the Hay Post Office now stands today, there used to be a police lock-up with two cells. It was the first Hay Gaol.
Dunera Prisoner of War Camp – The Hay Internment and Prisoner of War (POW) camps were established during World War II for seven different groups of civilians and enemy aliens. These POW camps were built in Hay mainly because of the regional isolation and transport access (railway station).
Australian Shearers Hall of Fame – honours shearers whose skill, character and contribution to the shearing industry has been exceptional. The beautiful building which is an interpretive museum was built nearly 20 years ago.
Nestled amongst the peaceful gums that crawl and wind along the mighty Murrumbidgee, Nap Nap Station breathes the Hay Plains air and stretches out across the land into the fulvous country sunsets that colour the still evening sky.
This historical station has been passed down through many hands but the very first of them were the Indigenous Australian Nari Nari peoples. Incredibly, bones and skulls of the Nari Nari people have been found in mounds of dirt. The Armstrongs fenced off these areas to preserve and protect them from cattle trampling and camping on these precious remnants.
All your senses and feelings shine right through at Nap Nap Station. You taste the sweet, icy cordial after you've been working in the sheep yards under the hot sun. You wake to the energizing sound of the iconic cockatoos. You see the dust lifting up into the big, blue canvas we all call the sky and disappearing into the horizon. You smell the refreshing and calming rain freefalling from the sky and hitting dusty soil, growing rich, green sheep feed.
All the lucky people that have had the pleasure of passing through Nap Nap, have nurtured and cared for it just like it has cared for them as it is a very special place.
Lottie Ryan, Hay School of the Air, 2020