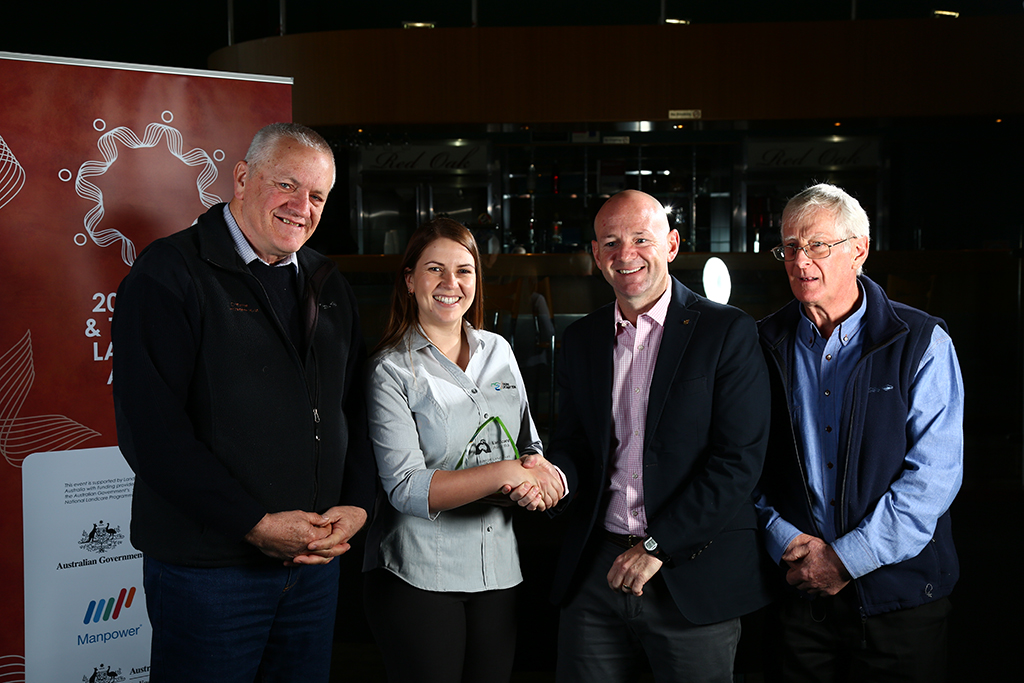 Creative Catchment Kids Wins Landcare Award
We would like to congratulate the education team at Wirraminna Environmental Education Centre, and their Creative Catchment Kids program, for the achievement of winning the 2015 NSW Junior Landcare Team Award. This is a fantastic achievement from all who are a part of the program and we are proud to be one of them.
Photo Caption: NSW Minister for Primary Industries and Minister for Lands and Water, the Hon. Mr. Niall Blair, presents the 2015 NSW Junior Landcare Team Award to Stacee Staunton-Latimer, Senior Project Officer of Creative Catchment Kids, at the NSW Landcare Conference, Orange September 2nd 2015.
Pictured L-R: Adrian Wells (Creative Catchment Kids Patron), Stacee Staunton-Latimer, the Hon. Mr. Blair and Darryl Jacob (Chairperson of Wirraminna Environmental Education Centre).
---
Creative Catchment Kids, the environmental education program that operates in over 60 schools in the Murray, Riverina and Western regions of NSW, has won the 2015 NSW Junior Landcare Team Award, and will represent NSW at the national awards.
The award was announced by the NSW Minister for Primary Industries, Niall Blair, and presented to representatives of Burrumbuttock's Wirraminna Environmental Education Centre at the Landcare and Local Land Services Conference in Orange last Wednesday.
Staff at Wirraminna deliver Creative Catchment Kids to primary schools students in an annual program where the students research, write and publish books about 'Local Land Heroes" – farmers, teachers, community identities and groups who are helping to improve the environment in a productive landscape.
Creative Catchment Kids has been a partnership of Wirraminna Environmental Education Centre and the Murray Darling Association since 2010, supported by Murray, Riverina & Western Local Land Services with funding from the Australian Government's National Landcare Programme and Catchment Action NSW.
Owen Dunlop from Wirraminna, said the award winning program engages school students in natural resource management programs over a year and links them with Local Land Services staff and people actively involved in productive agriculture, pest management and animal health.
"We are linking agriculture, ecology and science with literacy programs to create a framework for students to connect with local leaders in their field.
"Creative Catchment Kids now involves high schools, government and non-government schools, with more schools joing every year.
"We work with small schools such as Mullengandra Public to larger ones at Corowa. The program is very popular at Tumbarumba, Holbrook, Culcairn, Henty, Yerong Creek, Boree Creek, Walbundrie, Howlong, Lowesdale and Mulwala Public", he added.
The books the students write have become part of school reading programs encouraging young readers to act on local catchment issues. The books are now found in school, regional, state and national libraries. There are even Creative Catchment Kids books at Government House in Sydney, that were presented to the Governor by students at Deniliquin South Public School on his recent visit.
Senior project officer, Stacee Staunton-Latimer said "Schools have really embraced the program and the students really enjoy getting to know their local hero, writing about real-life issues and developing their initiative, leadership, teamwork and technology skills.
"It's a program that uses new teaching technologies that incorporates art, writing, literature, design, teamwork, maths, building relationships, and communication", she added.
The Creative Catchment Kids program also focusses on development of education kits, in school consultancy and excursions. The challenges faced in agriculture, biosecurity and pest management are not simply 'government' problems, they require a partnership approach that includes governments, landholders, communities, businesses and even students.
The first five of 57 books have been launched at the recent Henty Field Days with Michael McCormake, Federal Member for Riverina.