The Dolphin Marine Rescue EcoGroms Program is partnering with Enviro-Stories on creating books about Sea Turtle Adventures.
Kids in the EcoGroms program will work with the Dolphin Marine Rescue team to learn about sea turtles and their conservation. This program is only open to registered EcoGroms members.
Welcome EcoGroms
Hi EcoGroms! You will be creating two books about the life and adventures of sea turtles. The first books will be about 'The Life of Sea Turtles' and the second book will be on 'Sea Turtle Conservation'. Check out the lists below for some ideas on what you can talk about.
Using the information provided on this webpage, and any additional materials from the Dolphin Marine Rescue team, we hope will learn all about sea turtles and use this information to help create your stories and images for the books.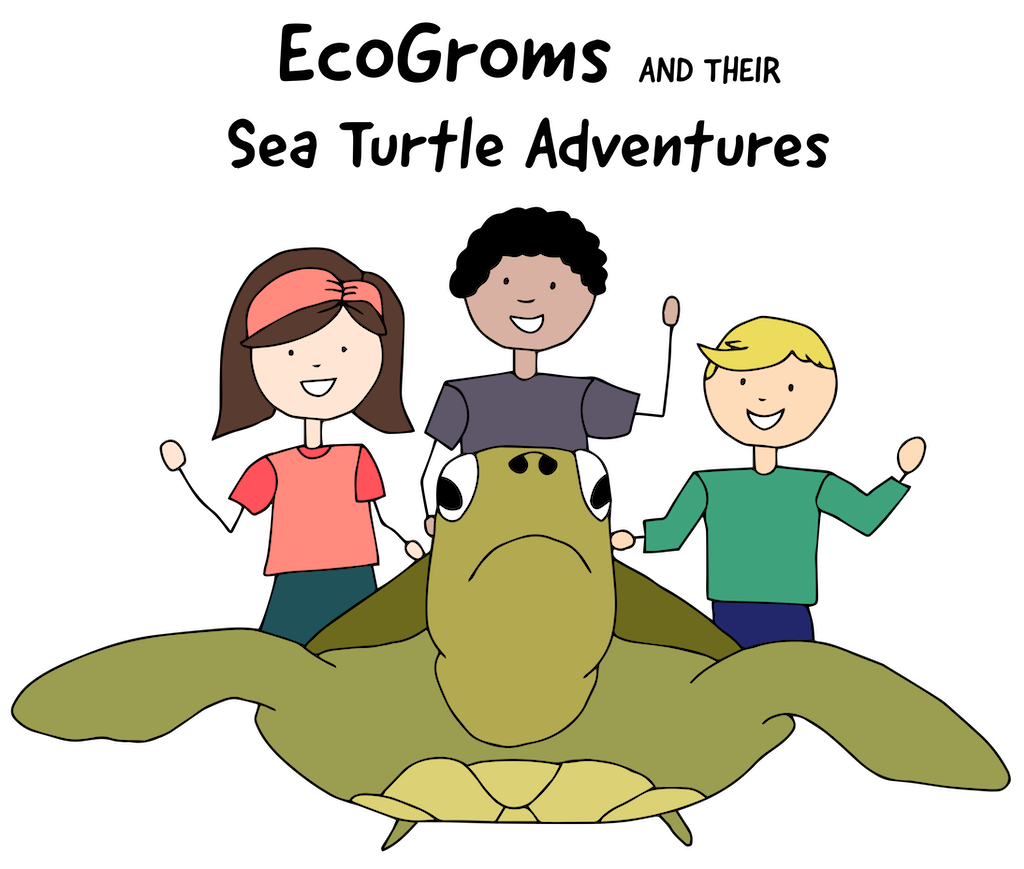 Book 1 – The life of sea turtles
This book will focus on topics such as:
sea turtle biology and species identification
where they travel
what they eat
nesting
life-span
Book 2 – Sea turtle rescue and rehabilitation
This book will look at topics such as:
threats to sea turtles
how to tell if a turtle is sick
treatments
release
how you can help conservation efforts
What do I have to do?
Step 1: What is an Enviro-Stories book?
Enviro-Stories books are books that have been written by kids, for kids. They can be fictional (made-up) or non-fictional (factual) stories. Have a look at some of our 470+ books that have already been published the Library. We recommend reading the Love Our Lakes series as there are some great marine stories. Also try Manny Rivers to Cross – it's a great story about the threatened Manning River Helmeted Turtle, written by kids in the Hunter region of NSW.
Step 2: Attend the EcoGroms Workshop – February 13 … COMPLETED!
Step 3: Learn more about Sea Turtles
Click on the tabs below to find some links and videos that will help you learn about Sea Turtles. Understanding the biology and conservation of sea turtles is the key to writing a good story.
Step 4: Download your template
The following storyboards were developed at the February workshop. These outline the pages, their topics and some notes on what technical content to include on the page(s), and the EcoGroms assigned to each page.
We have prepared template Word documents for each individual/team to use to write and illustrate your section of the book (see the lists below). These templates include some guidelines for you, such as:
Keep it simple
Producing the illustrations in a portrait layout
No text over illustrations
Keep a backup copy
On your template please make sure to fill in your full name and email address.
Your Story Pages and Topic: There is a table with the page numbers you're working on, the topic of those pages and some suggestions about what to include in your writing.
Book Titles: We would like you to nominate a creative title for the book. Holly will arrange for a vote to be cast on the final book titles. Let's see who can come up with the best title!
Templates for Book 1 about sea turtles in the wild
Templates for Book 2 about sea turtle rescue and rehab
Step 5: How do I write and illustrate a story?
We have some Hints and Tips that have been prepared to help you write and illustrate your story. There are some short videos included as well.
HINTS and TIPS
Stories Due Monday 15th March
Step 6: Submitting your story
Email your story contribution (including a profile photos for the book's back cover) to:
Holly West
hollywest81@hotmail.com
Post original illustrations to:
Holly West
Dolphin Marine Rescue Animal Rehab Trust
65 Orlando Street
Coffs Harbour NSW 2450
Story advice
Hints and Tips
View our Hints and Tips about how to create a good Enviro-Stories book. READ MORE…
Check out some of our previous books to help inspire your creativity. GO TO THE LIBRARY…
Check the story to ensure any scientific or technical details are accurate.
Check the spelling and grammar.
Need some help?
For any questions please contact:
Holly West
Dolphin Marine Rescue Animal Rehab Trust
Phone:  0468489259
Email: hollywest81@hotmail.com
Kelly Coleman
Enviro-Stories
Based in Victoria
Mobile: 0431 583 584
Email: admin@envirostories.com.au
This program is supported by Dolphin Marine Rescue Animal Rehab Trust