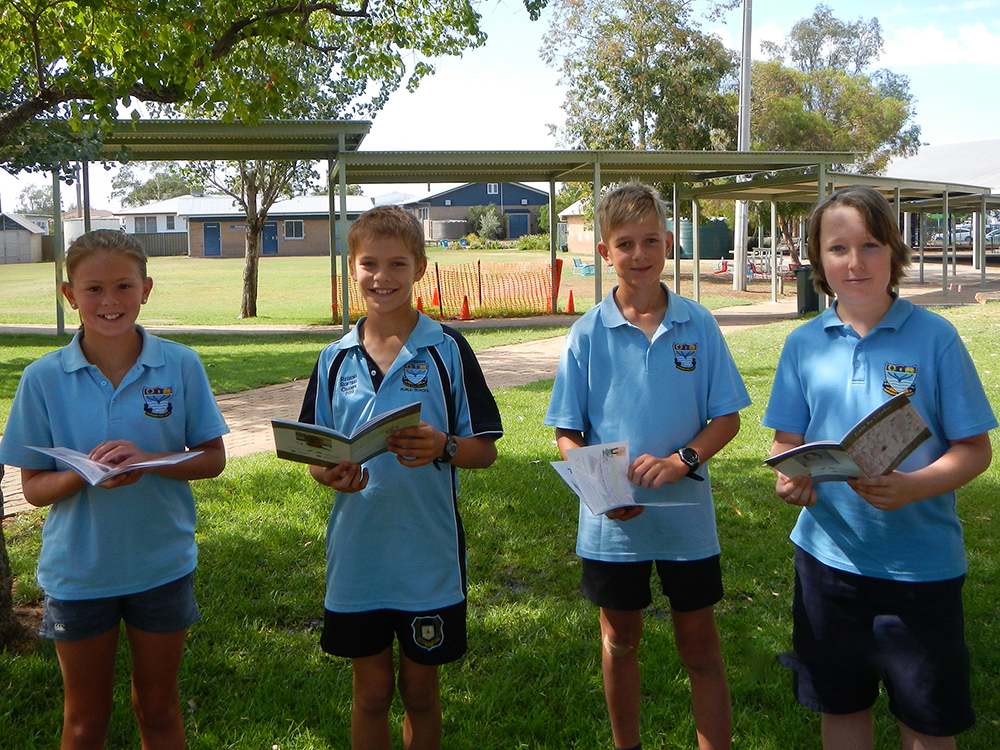 Farming families are the focus of north west NSW schools
Working in the cattle yards, learning about cotton, creating a more sustainable farm and catching feral animals are just a few of the stories that have been published in this year's Farming Families Enviro-Stories program.
Students from year 5 and 6 have been working with their teachers to produce nine books that have been published in celebration of the International Year of Family Farming.
Niangala, Narrabri (pictured top), Boomi, Wee Waa (pictured below) and Calrossy Anglican school students were lucky to have had books published through the Farming Families Enviro-Stories program.
The published books have been printed and distributed to the schools involved and will be sent out to hundreds of schools in the regional area to add to their library.
Not only have the books been printed, they have also been made into flipbooks that anyone can read online. These flipbooks have been specially designed for use on classroom smartboards.
For that extra knowledge, you can download the multi-touch iBooks for iPads. These books contain additional technical information and photos to help describe some of the things that are mentioned in the stories. These books can be used in the classroom and at home to help kids learn more about farming.
Some of the comments from teachers involved this year include:
"I found the students had a great respect and love of the special time they spend with their farming families. They were very proud to be able to write about their families, farms, animals and friends."
"I think students who do not live on farms could appreciate the important roll that farmers play within a community as well as how much we rely on the local environment for resources. It allowed students with farms to share their knowledge and experiences with others."
"Being involved in this project made the students more aware of what goes in to making their farm a success."
Enviro-Stories is an education program that inspires local literacy by helping to connect students with their local environment (such as a farm, bushland, school, community, the list is endless) and then supporting the writing of a narrative that will engage and/or educate other students. You can read more than 250 stories that have already been written by kids, for kids on the Enviro-Stories website.
This is the sixth year that the program has been running in north west NSW with the support of the cotton industry – Cotton Research and Development Corporation. This year, the Northern Tablelands and North West Local Land Services also supported the program.